RFID Readers with IP65 Certificate
The Aceprox IP65 certified OEM proximity wall mounting readers consist of three parts: a potted unit containing the electronics, a front cover, and an optional spacer plate for easy surface-mount installations even on metal. The readers are tested and certified to meet the conditions of the dust and water protection rating IP65.They are designed to operate in outdoor environment under harsh conditions and are fully weather-resistant.The unit also allows for user control of the three LED´s and sounder. A fixed 10 way colour coded cable protrudes from the back of the potted unit.

Applications:

Kiosk Terminals
Security Systems, i.e. access control
Parking Systems
Ticketing for events or Public transport
City or Island Cards with payment function

Frequency

125 kHz
125 kHz
125 kHz
13,56 MHz
13,56 MHz
13,56 MHz
Chips supported
EM4102, EM4200 and Atmel Temic E5577 series
EM4102, EM4200 and Atmel Temic E5577 series
HID Prox II ® 26 / 37 bit
MIFARE® Classic 1K/4K, Ultralight®,Plus and DESFire EV1/EV2, NFC, NTAG 21X
MIFARE® Classic 1K/4K, Ultralight®,Plus and DESFire EV1/EV2, NFC, NTAG 21X
MIFARE®Classic 1K/4K, Ultralight® and Plus SL1, NFC, NTAG 21X
Standard
           —
           —
            —
ISO 14443A
ISO 14443A
ISO 14443A
Output Data String/

Transponder

ID Code
ID-Code in Hexadecimal after Poll command
ID-Code in 14 different user selectable formats
Site Code and/or User Code in 6 different user selectable formats
ID-Code in 14 different user selectable formats
ID-Code in Hexadecimal after Poll command
ID-Code and/or Sector Data in various formats
Interface/Output formats supported
RS 485 with addresses 1-15, ASCII Software commands
Wiegand, MagstripeRS232 EIA and TTL Levels, Clock/Data,

Crosspoint

Wiegand,Magstripe RS232 EIA and TTL Levels, Clock/Data 
Wiegand,Magstripe RS232 EIA and TTL Levels, Clock/Data, Crosspoint
RS 485 with addresses 1-15, ASCII Software commands
Wiegand, Magstripe RS232 EIA and TTL Levels, Clock/Data
Configuration by

—

DIP Switch

DIP Switch

DIP Switch

—

Config Card

Product Reference
USB oder PS/2 Desktop Leser
 
The AceProx Desktop Card Readers with USB or PS/2 interface are specially designed for the operation in a PC environment. Their internal code can be used directly in the applicable software application without any need for software modification, since it is entered at the Curser Position. Like this typing errors can be avoided and the card number does not need to be printed on the outside anymore.All readers provide a keyboard emulation and can be plugged directly into a USB or PS/2 Port without installation of any hardware drivers. The USB versions are true Human Interface Devices (HID), so they can also be used in non-PC environments, i.e. control of photocopiers. No external power supply required.

Applications:

Verification of passive

Transponder

card number
POS Systems
PC User Authorisation
Security & Access Control Systems as log-in unit or take-on

Reader

Control of printers and photocopiers

Operating Frequency

125 kHz
125 kHz
125 kHz / 13.56 MHz
13,56 MHz
13,56 MHz

Chips supported

EM 400X, 4102, Unique, Crosspoint
HID-Prox 26 bit & 37 bit
MIFARE® Ultralight, Standard 1K/4K, Plus, Desfire, NFC, NTAG 21X, ICLASS fixed ID, EM 400X, 4102, Unique, Temic E55XX Serie, HID Prox II® 26/37bit
MIFARE® Ultralight, Standard 1K/4K, Plus, Desfire, NFC, NTAG 21X
MIFARE® Ultralight, Standard 1K/4K, Plus (SL1),NFC, NTAG 21X

Standard

 –
 –
ISO 14443A
ISO 14443A
ISO 14443A

Output Data String

ID-Code in Decimal, Hexadecimal or Crosspoint
Site Code and/or User Code
UID/ID-Code in Decimal or Hexadecimal
ID-Code in Decimal or Hexadecimal
ID-Code and/or Sector Data in various formats

Configuration by

DIP-Switch
DIP-Switch
DIP-Switch
DIP-Switch
CONFIG-Card

PS/2:  Product Ref.

732-52
 –
–
734-52
735-52

USB*:  Product Ref.

736-52
728-52
865-52
738-52
737-52
* USB Versions are available in light grey or black
Switchbox Reader
Attributes

Dimensions according to DIN 49075
Compact Dimensions
Reading distance up to 10 cm (125kHz)
Continous or single output mode
Fully potted for  increased weather resistance
3 LEDs and 1 Buzzer can be steered  externally
Multiple output formats
Variable operating voltage of 8 to 13,6 Volt DC

One Reader fits them all: Looking for an affordable access control Reader that complies with your switch / socket frame brand?

AceProx's new switchbox readers for 125kHz EM4102 or 13,56MHz MIFARE® fit all the most popular installation frames that offer adapter frames for the 50x50mm standardized front plate.

A simple snap-in mechanism of the entire front plate guarantees easy installation.

The multiple-output technology stands for easy integration into all open-architecture access control or building automation systems.

685-53-OEM-Proximity-Switchbox-Reader-Rev-1.0.pdf

717-53-ID-Reader-Rev-1.0-short-form-n.pdf

Application ranges

Security Systems,  i.e. access control
Industrial data collection / Job Costing
Time & Attendance Systems
Membership Cards

Switchbox programs to DIN 49075

AceProx Proximity Switchbox Readers are fully potted units containing all the electronics required to read an RFID Transponder and output the code in a number of formats.

An 8-way connector on the back of the unit is provided to connect the unit to a controller.

The Reader allows simple installation into a 55mm switchbox. Compact dimensions. It is particularly suitable for the integration into access control systems.

The 11 different data output formats allow easy integration.

The switchbox reader reads the factory-set ID/UIDCode from the Transponder and transmits it via the chosen interface (RS232, Wiegand 26bit, ABA Track II, etc.) to the controller / PC.
Keypad Reader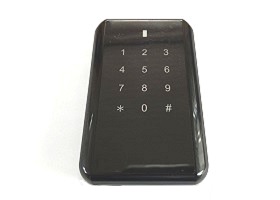 For all applications requiring a PIN code in addition to the code read from the card or tag, AceProx offers two models of Keypad 125kHz Readers:
The 484-52 comes with infrared keypad and supports all the different output formats known from the AceProx 684-52 Reader. The 584-52 with its vandal-resistant and weather-proof metal housing comes with a Wiegand output or can be used as a 1-Door stand-alone access control system with the possibility to individually delete lost or stolen cards.
Modell

                      484-52
                     584-52

Chips Supported

– EM 400X, 4102, Unique, Crosspoint
– EM 400X, 4102, Unique,- HID-Prox 26/37 bit

Housing

– plastic
– Metal – anti-vandal case

Output Format

– Aceprox Standard  multiple output- 13 formats – selection by dip switch
– Wiegand 26-37bit

Features

-multiple output formats compatible with all other AceProx Readers
-1-Door Stand-Alone Access Control for up to 2000 Users-Additional

Reader

connectable also 13,56MHz

-2 relays operation

Operating temp.

–  -10°C – 55°C
–  -20°C – 60°C

Waterproof

– IP 55
– IP 68

Operating Volt.

– 12V DC 1A;
– 12-24V DC oder 12-18V AC

Power cons.

-200mA
-25mA

Dimensions

– L120 x W77 x H22mm
– L128 x W82 x H28mm

Net Weight

– 140 g
– 600 g
Aceprox RFID Modules
      Dimensions (LxBxH) in mm: 46x30x11

Weight: 30g

The Aceprox proximity

Reader

modules are fully encapsulated device that reads the code from an RFID

Transponder

and output the code in one of many user selectable formats. External LEDs and a beeper can be connected to form a complete interactive

Reader

.The Module contains all detection circuitry required to implement the proximity

Reader 

including an internal coil

Antenna

(125kHz units only). Additionally a larger external

Reader

coil may be connected if greater reading range is required. All modules have an identical footprint and are mostly PIN-compatible.

Applications:

Mobile Terminals
Security Systems, i.e. access control
Industrial data collection / Job Costing
Time & Attendance Systems
Membership Cards
Parking Systems
Kiosk Terminals

Frequency

125 kHz
125 kHz
125 kHz
13,56 MHz
13,56 MHz
13,56 MHz
Chips Supported
EM4102, EM4200 and Atmel Temic E5577 series (ID-Code)
—
HID Prox II ® 26 / 37 bit
MIFARE® Classic 1K / 4K, MIFARE Ultralight®, MIFARE Plus® and MIFARE® DESFire® EV1/EV2
MIFARE® Classic 1K / 4K, MIFARE Ultralight® and MIFARE Plus® SL1
—
Standard
              —
           —
         —
ISO 14443A
ISO 14443A
—
Output Data String/

Transponder

ID Code
ID-Code in 13 different user selectable formats
—
Site code/User Data Code
ID-Code in 14 different user selectable formats
Software command- driven

Reader

/Writer
—
Interface/Output Formats Supported
Wiegand, Magstripe,RS232 EIA and TTL Levels, Clock/Data,Crosspoint
—
Wiegand , Magstripe RS232 EIA and TTL Levels, Clock/Data
Wiegand , Magstripe RS232 EIA and TTL Levels, Clock/Data
RS232 EIA and TTL Levels
—
Configuration by
Select PIN´s
           —
Select PIN´s
Select PIN´s
          —
—
Product Reference
680-52
689-52
 713-52** 
723-52**