USB Multi-tag Desktop Reader, Ref. 865-52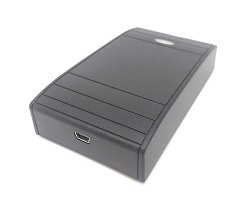 The USB Multi-tag Desktop reader is a dual frequency RFID proximity reader operating simultaneously on both 13.56MHz and 125kHz. It can read the unique ID or tag number from the most common cards and tags, and connects to a PC via USB. The device enumerates as a Human Interface Device (HID class).
It outputs the code in the form of keystrokes (SCAN Code or ASCII), which enables the user to capture the transponder code into any PC application, which accepts keyboard entry.
Plug & Play:
No driver or configuration software required. A 10-way DIP switch on the back of the unit is used to select the required output format.