S – Control: The new AceProx One-Door Controller
Your Smartphone is the Key!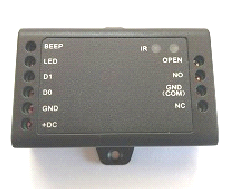 The one-door controller connects to your mobile phone via Bluetooth

. In addition (also possible in simultanious operation) it has a Wiegand-26-37bit interface for connecting an RFID reader. In RFID mode, the S-Control is configured with a remote control or configuration card. Up to 1000 users/persons can be managed in this way. The stored data can be transferred to other S-Controls.